St. Peters Lawn Care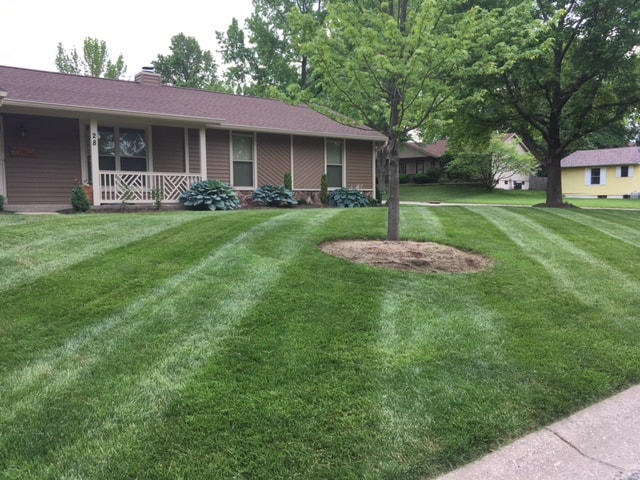 When looking for a local lawn service provider that can provide quick same day service to St. Peters, MO, look no further. We have been serving St. Peters lawn customers for over 10 years. Whether you need a one time cut, or a reoccurring service for the season we can get you serviced quickly.
Our goal is to make your lawn look the best, because we know your neighbors will take notice. When the ask you, "Who takes care of your lawn?" You will be proud to say Greenside Lawn Care. This will not only keep you happy with our service each lawn acts like a billboard of our work and we want that work to be our very best work possible. We offer affordable rates to St. Peters, MO because we have so many customers in St. Peters, MO. When looking for St. Peters lawn care quotes give us a call we would be honored to show you once your with Greenside you will never leave our side.
St. Peters lawn care is our number one priority
Ever have to wait for service? Everyone hates waiting, which is why Greenside Lawn Care is offering same day service to St. Peters lawn care customers. That's right same day service to take care of your lawn call us and within 24 hours your lawn will be taken care of, as weather permits. We can get you taken care of quickly so whatever the case is, you get home from vacation and your lawn is out of control, preparing for a family event, or just wanting to hire a full time lawn care provider, Greenside has you covered. For the fastest service get a St. Peters lawn care quote online today.
Weekly Service
Lawn Mowing
Weekly Bed Spray
Monthly Bush Trim
Weekly Service
Lawn Mowing
Trim & Edge
Clean up
Bi-Weekly Service
Lawn Mowing
Trim & Edge
Clean up
More Than Just Lawn Service
Not only do we provide the top of the line lawn care services to St. Peters we also do a variety of landscaping services. We can be the all in one company to be able to serve you whether you need mulch, rock, bushes trimmed to full retaining walls, landscape edging, drainage solutions to even snow removal. We can provide you a free landscaping design where we can put together ideas for you or we can take your design and bring it to life. Check out all of the different services we offer click here. 
We not only offer the best lawn care in St. Peters, but we offer service to several other nearby cites as well: