Residential & Commercial Landscaping Services
Your trusted landscape design experts in St. Charles & O'Fallon, MO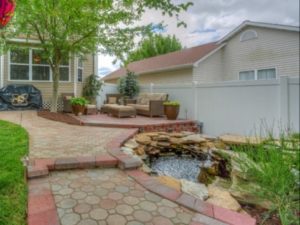 At Greenside Lawn Care, our expertise, attention to detail, and flexible services allow us to transform any outdoor area you own into the landscape of your dreams. As a homeowner in the St. Charles & O'Fallon areas, you can enhance your property value with the right landscape design.
Whether you want to add natural elements or hardscaping features, there are endless ways to spruce up your property. We also love a good challenge – if you have a specialty project for your home that you'd like to explore, give us a call!
Free Custom Landscape Design
Our team will draw up a custom landscaping plan tailored to your vision, completely free of charge. We offer personalized designs based on your needs and wants & will work with you every step of the way to ensure the final product matches your dream without breaking the bank.
Landscape Design Ideas
At Greenside, we offer a variety of popular design ideas for your back or front yard. The front yard is where we like to start – enhancing the curb appeal of your home is bound to make a great first impression. Some great ideas for landscaping the front yard are adding flower-filled bushes, a small garden, or even a stone walkway.
The backyard is where the creative juices can really flow. Common backyard landscaping ideas include adding trees and plants to increase privacy or a patio to create a new space to enjoy the backyard.
What is Hardscaping vs Softscaping?
In short, the hard vs soft materials used in landscaping. Hardscaping refers to the brick, stone or other man-made features incorporated into the landscape. Softscaping refers to the plants, trees or other living elements.
Hardscaping is an important aspect to a clean landscape design since it offers an endless number of ways to creatively add architectural features that bring the entire landscape together. Hardscaping is an efficient way to keep all softscape materials like rock or mulch from spreading across your lawn.
Rock vs Mulch Landscaping
Are rocks or mulch better for landscaping? Both elements have pros and cons and one is likely better for you based on your landscaping situation and vision. Learn more about rock vs mulch landscaping.
Landscape Maintenance
Proper maintenance, especially in an area like St. Charles, MO that experiences all four seasons, can actually save money & prolong the health of your lawn and landscaping features. Replacing a tree, plant, or even a dying grass area can drastically outweigh the cost of routine maintenance.
At Greenside Lawn Care, we offer several maintenance plans that can be combined with any of our lawn care service packages offered throughout St. Charles County. If you're trying to decide whether mulch or rocks would be the best choice for your upcoming landscaping project, give us a call for a free quote at 314-479-4005!
Other services offered throughout St. Charles & O'Fallon:
To view all the services we offer click here and view our services page.