Landscape Design Ideas For Your St. Charles Home
Your outdoor living space can be transformed to extend your living area, add value to your property, and provide a unique environment to spend time with family and friends. However, when you start to figure out your wants, needs, and how to do it, landscaping can suddenly seem overwhelming. Fortunately, the experts at Greenside Lawn Care are here to help. We've highlighted 5 things you can do to easily enhance your home's curb appeal.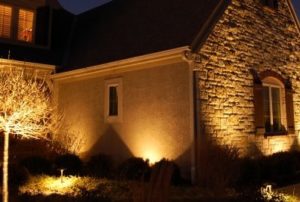 Light Up Your Landscaping
Have you ever wondered what professional landscape lighting can do for your home? Landscape lighting allows you to create a stunning landscape for your home that can be enjoyed during the night and day. If you're struggling with your lighting vision, turn to a professional who can help you create the ideal lighting solution. 
The introduction of "smart" technology has created an entirely new type of outdoor lighting. Technology now offers you the ability to manage your home's lights from a simple app on your phone. 
Types of Landscape Lighting 
Uplights
This involves placing some lighting fixtures on the ground or floor and then pointing them up. These are mostly used as a way to improve the ambiance you're trying to create. At your own home, you can use uplighting to showcase a beautiful tree, the architecture of your home and garden features.
Downlights
Downlights are great for creating a moonlight effect and are best displayed by lighting a stairway or even a dark walkway. Adaptable to the trees in your yard or your home, they can be mounted almost anywhere. 
Spotlights
Spotlights are good for highlighting objects near your home such as on decorative objects. You can use a spotlight in sensitive security areas around your home, such as back doors, porches, or garages.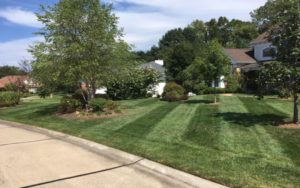 Give Your Landscaping a Little Edge
Edging is a great way to create a permanent divider between your lawn, a flower bed, path or play area. Plus, dividers can be a great line of defense between turf weeds and your garden. Lawn edging can also enhance your home's curb appeal as well as draw attention to a focal point such as a garden, tree or shrub. If you're looking to give your lawn a little extra something, edging might be the solution for you. 
How to Edge your Lawn
First, it is best to measure. Give yourself enough space for a straight line across the area you're working in. It's best to use twine for a marker. After you've got your plan together, take your spade or shovel, and plunge it  6' into the ground and create a V-shaped wedge towards your garden. This will give your garden a uniformed line and help with rain runoff. 
Build a Retaining Wall
Adding a retaining wall can add structural support, create a pleasing aesthetic in your lawn and prevent soil erosion; which is especially if you live in an area that is prone to flooding. 
Additional Structural Support
Say you live on a slope or have a hill in your yard. Adding a retaining wall could create additional square footage for your garden. This could be a new, functional space, you once didn't know existed. 
Give your landscaping a "Wow" factor
If you're looking to add a unique feature, a retaining wall can be a creative solution. Adding a retaining wall can create harmony and help highlight your landscaping's most important features. 
Prevent Soil Erosion
The wet Missouri springs can be a nightmare for some homeowners, especially if your yard is prone to flooding. These conditions make retaining walls a valuable feature in reducing soil runoff and controlling flooding in your yard. Lastly, drainage can be embedded during the construction to assist.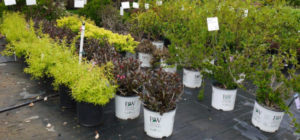 Add Shrubbery, Flowers, and Bushes
Adding shrubs, flowers, and bushes to your landscaping is an easy way to improve the look of your home. Not only will they help fill out your lawn with pops of color, but they also have environmental benefits as well.
Shrubs add Unique Designs to your Lawn
Shrubs are often overlooked as basic objects to help fill bare spots in your yard, but that isn't true. Shrubs help create a middle ground for the eye between your trees that are way up high and your flowers down below. If you're looking to create a transitional phase in your lawn, look into medium-height shrubs.
Added Environmental Benefits of Landscaping Plants
Shrubs, flowers, and bushes can be used to help prevent erosion and stormwater runoff that can harm your garden.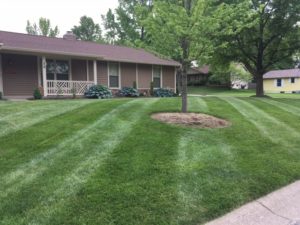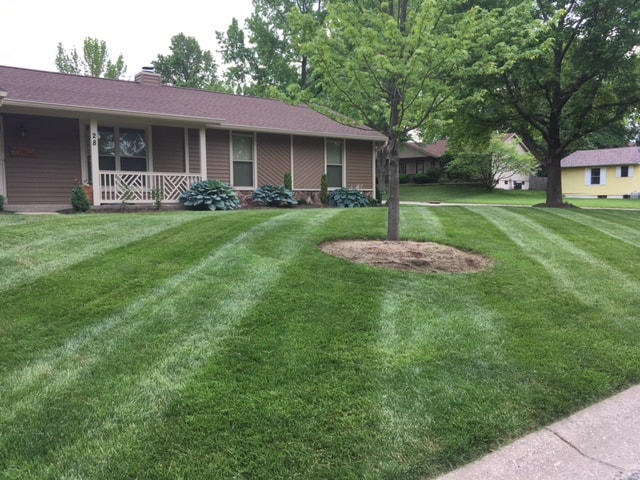 Plant a Tree(s)
Everyone knows trees are important for maintaining a well-balanced ecosystem, but they do so much more. Trees can save you money on your home's energy bill by providing shade, or they can create a natural barrier between you and unwanted noise. 
Unexpected Energy Savings of Trees
The hot, muggy summers we experience in St. Charles are no joke. We could all use a break from the heat and trees offer that extra shade that can't be matched. Some studies have shown energy levels to drop nearly 20% in homes that receive shade. 
Ecological Benefits of Trees
Well placed trees can be lifesavers for your garden, as well as yourself and your family. Slow runoff by strategically placing your garden in-line with trees to give them extra protection. Trees are vital in improving air quality, that's why it's never a bad idea to surround yourself with them as much as possible.
Ready to Upgrade Your Home's Landscaping?
With so many beautiful Spring, Summer, and Fall Missouri days and nights, isn't it time you upgraded your landscape to create an inviting, functional, and exciting outdoor environment that you can enjoy year-round with your loved ones? If so, give Greenside Lawn Care a call – St. Charles, O'Fallon, and surrounding area's premier lawn care specialist. Contact us today for a free quote.