Not sure which Grass Type is best for you? Find out which grass will meet your lawn care needs.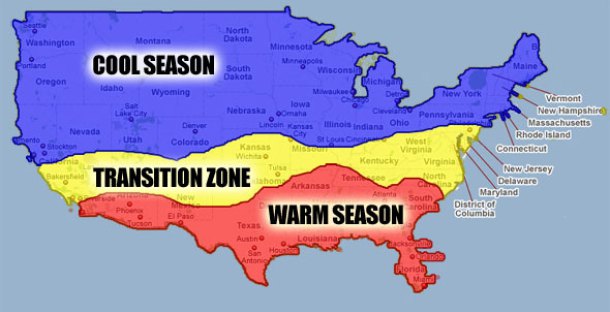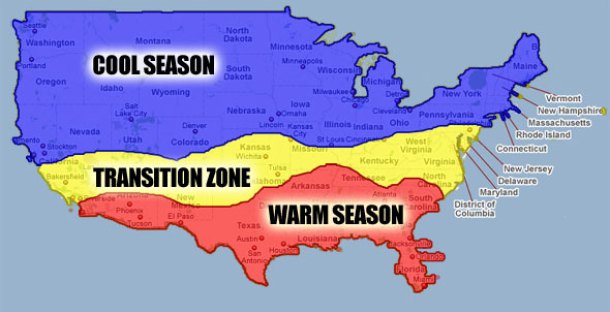 Click on your grass zone to view grasses within your zone.
As you can see St. Louis is right there in the transition zone and cool season grass section. Blue grass is a common grass type in new construction because its cheaper that fescue. For best results go with a fescue type of grass, in the St. Louis area.
Cool Season Grasses
Bentgrass: Bentgreens is a type of grass that is found at golf courses. This type of grass can tolerate heavy foot traffic and tolerate short cuttings. This type of characteristics make bentgrass a excellent type of turf for golf courses. It also has a strong dark green color. Bentgrass has shallow root systems making it easy to plant and grow.
Kentucky Bluegrass: Kentucky bluegrass can be the best choice for a homeowner's lawn. It is truly a "bare foot" grass at its finest. Bluegrass is one of the longest living perennials grasses grown. Blue grass is a northern type of grass. It can be found from VA to northern CA and north. Kentucky blue grass is often mixed with perennial ryegrass. Root growth of Kentucky bluegrass peaks at soil temperatures of 60°F and declines sharply as temperatures rise above 70°F. Root growth practically ceases at temperatures above 80°F.
Red Fescue Red Fescue is a great choice for is a cool-season grass used in cool, shaded, mountain sites, such as camps, resorts, and cabins where low-input of mowing, fertilization, and irrigation is desired. It does not do well in hot climates and forms a good blend to have shade tolerance. It should be cut at a high mowing cut is recommended.
Annual Ryegrass Annual Ryegrass is a great type of grass to help erosion control. Unlike most grasses, there is minimal preparation needed for this grass to thrive. It is one of the few throw and grow grasses. It is not a aggressive type of grass and is a good choice to blend with any northern to warm season grass for extra tolerance. It does have a fast germination rate and will give a lawn as a instant green.
Perennial Ryegrass Perennial Ryegrass, a perfect choice for athletic fields in the cool season grass zone. Perennial Ryegrass is known for its wear and durability and quick growth. It does produce a shiny green color. Perennial Ryegrass are highly tolerant to diseases and insects.
Transition Zone
Tall Fescue Tall Fescue, a durable type of grass it is listed as a cool season grass but it tolerates heat well will not tolerate severe drought. It is a perfect fit for the homeowners lawn, because it can tolerate infrequent cutting. It will not tolerate high elevations, but it is common type of grass in California.
Kentucky Bluegrass: Kentucky Bluegrass, is listed as both a cool season grass and a transition zone grass. Remember that bluegrass does not do well in the direct heat. After 80 degrees the roots stop root development and by 90 degrees the grass go dormant. It also is a good choice for a homeowner's lawn.
Perennial Ryegrass Perennial Ryegrass is also listed as grass in the transition zone. Again it is durable type of grass, it can be found on baseball and soccer fields.
Zoysiagrass Zoysiagrass, this grass does well in direct sunlight, it requires much less water compared to other types of grass. It is a good choice for a homeowner. It has a short growth period in Missouri it may not fully develop until May, and it shuts down in September. Since its a thick grass it can be hard to mow and must be cut often.
Warm Season Grasses
Bahiagrass Bahiagrass is a subtropical to tropical type of grass. It prefers sandy soil and it mostly used as a forage grass. It can tolerate salty conditions and is more disease and insect friendly than other warm season grasses.
Bermudagrass Bermudagrass, is not native from Bermuda, was a invasive grass that was introduced there from Europe and brought to the US. This grass is very aggressive and will take over any grass. Its also called the "devils grass" because it is hard to get rid of. Bermudagrass  is reported to have serum glucose-lowering and antidiabetic effects, antimicrobial and antiviral properties, and has been suggested for treatment of urinary tract infections, prostatitis, syphilis, and dysentery.
Carpetgrass Carpetgrass, is also a grass that will grow well in sandy conditions. Because it requires little maintenance it is a commonly used in parks, roadsides, airports and golf course roughs. It tolerates areas that are too wet for Bermudagrass.
Centipedegrass Centipedegrass is found in the southeastern part of the US. It has a longer growth cycle and needs little fertilization. A yearly application can take care of the grass. Too much nitrogen can cause issues as well. It is dought tolerant and when health can choke out all other weeds.
St. Augustine Grass St. Augustine Grass thrives the best in areas where moisture is abundant. St. Augustine grasses are popularly used in pastures and ranches. They are also a popular grass covers for home lawns. It can grow in any PH levels from 5.0 to 8.5.  Only recently has a seed been developed for this grass it has been spread by  plugs, sprigs, or sod.
Zoysiagrass Zoysiagrass, is also referenced as a warm season grass. It does require dirt not sand so in Florida is not really a good option. It has shallow root systems and is drought tolerant. It can be a great type of grass for a homeowner. It is a slow growing grass and will take over a lawn overtime.