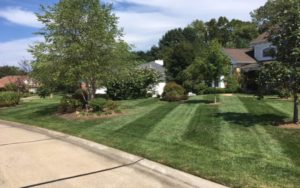 St. Charles Lawn Care
Are you looking for the best lawn care provider in St. Charles, MO? Welcome to Greenside Lawncare, where we go the extra mile to ensure that your lawn stands out from all the rest. For 10 years, Greenside has became a industry leader for St. Charles lawn care. We service both residential and commercial lawn care here in St. Charles, MO
St. Charles Lawn Service Process
At Greenside we pride our self in providing the absolute best service to our customers. When we service your lawn we want your lawn to be the talk of the neighborhood. Each time we service your lawn its a representation of our work not only to you but everyone who sees your yard. We want to make your lawn stand out from all the rest by taking the additional time to focus on quality of service rather than being fast. Because we are based in St. Charles having your St. Charles lawn mowed the same day your call isn't a issue. The process to receive a quote can be done online here. We then will email you a agreement for the services that you requested. You can sign the agreement using your smartphone and service can start immediately. We can also drop off a hard copy of the quote within 24 hours to your house and you can leave it on your door when you want the service to begin. All quotes we guarantee for 30 days so there isn't any pressure for you to make a quick decision.
Residential Lawn Care & Landscaping
To be the best lawn care provider in St. Charles we offer not only lawn care but we can be all in one lawn care and landscaping company to keep your landscaping up to date all year long. Whether it is an family gathering, vacation, or a busy work schedule we can keep your hedges, bushes, and beds in check all year round or on a as needed basis. We have programs that will not just ensure your lawn is always looking its very best, but your plants and bushes in check.
Lawn Care Service Plans
Weekly Service

Lawn mow
Weekly bed spray
Monthly bush trim
Weekly Service

Lawn mow
Trim and edge
Cleanup
Bi-Weekly Service

Lawn mow
Trim and edge
Cleanup
These services can also be adjusted and modified as the season progresses. In the early spring you could start with our Platinum Service Plan and switch to a Gold Service Plan during the summer with a simple call or email. We are as flexible as weather is always unpredictable.
Signing Up For St. Charles Lawn Care Today!
We understand that paperwork can be a long process which is why we have invested time and effort making signing up and paying for lawn care a simple and easy process. We can send you a email with your agreement so that you can sign up quickly on the go. You can request a free quote online and pay for the service on our website 24/7. You can also create an online account with your own username and password to view your account history at anytime. We accept all major credit cards. You can also mail payments into our office as well. To get intimidate service you can call us at 314-479-4005, most of the time we can fit you in within 24 hours of your call pending immaculate weather.
We not only offer the best lawn care in St. Charles, but we offer service to several other nearby cites as well:
For more information about St. Charles you can visit their website at https://www.stcharlescitymo.gov/